Growing your own herbs is one of life's greatest pleasures, plus you can do it even if you don't have much space in your home or apartment. That's where a windowsill herb garden becomes the perfect option. Not only do they provide you with some of the best tasting herbs you've ever had, but they will also help create a relaxing environment in your home. Here in this article I've put together the 10 best herb planters that will fit perfectly on most windowsills.
Urban Leaf – Garden Trio Herb Kit (Basil, Parsley & Cilantro)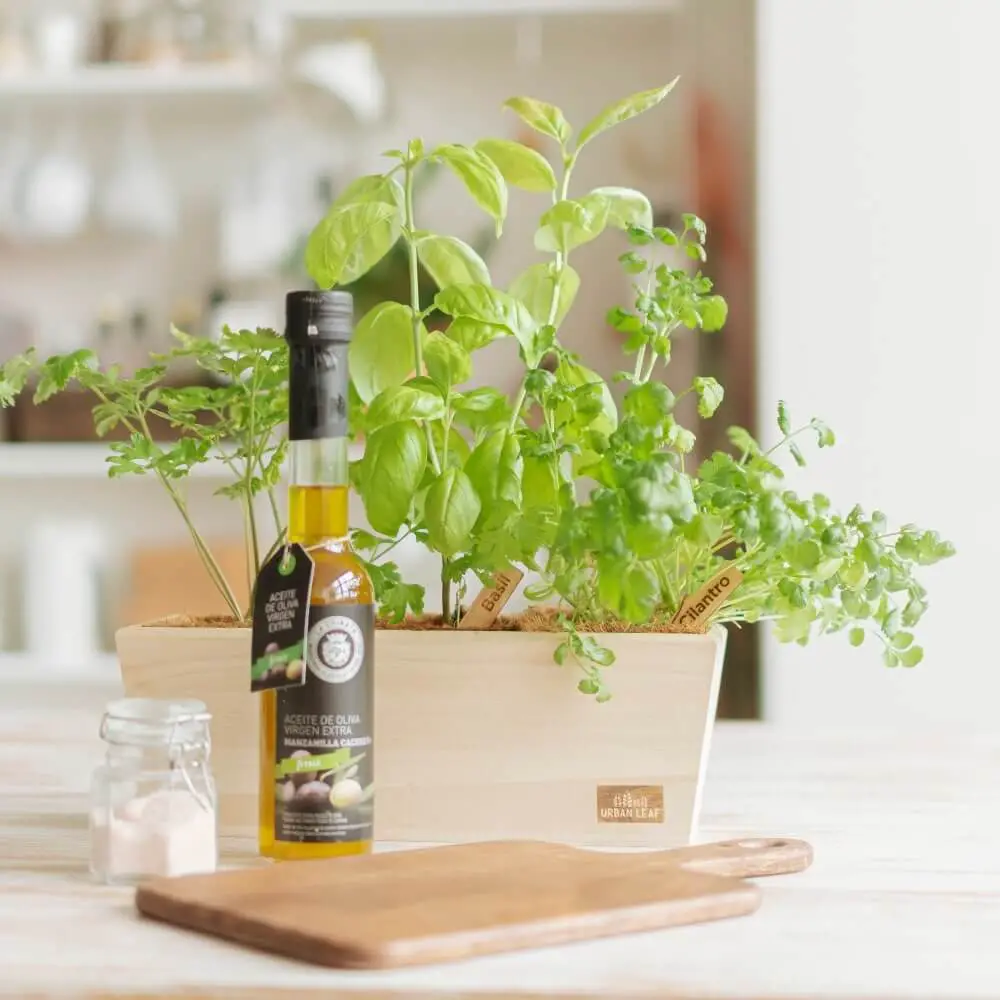 Urban leaf have some of the best indoor gardening products available right now. They've got a wide range of things for your home, including this fantastic trio herb kit. It's a complete kit to get you going with your own windowsill herb garden. With it, you'll get:
Reusable, timber planter
3 Coco Coir Pots
3 Expanding Soild Discs
Water-retaining Crystals
Bamboo Labels
3 Packets of Seeds
Plus FREE access to their app full of useful maintenance tips
Vintage Farmhouse Styled Planters
These planters come in a set of 3 and get their design inspiration from a vintage farmhouse. They will help you grow the perfect "Instagram herbs" to show off to the world. Made from galvanised steel, they'll last you for a long time to come. You'll get a drip tray with this too, so you don't have to worry about spilling water everywhere. Plus there's holes in each of the planters to allow excess moisture to drain, which is then caught by the drip tray.
This wooden planter isn't quite as deep as others so you want to make sure your plants have small root balls. Most herbs will be fine in it though. It's a really eye catching planter with a rustic feel to it. The planter itself is made entirely from wood with a plastic lining to prevent rot. The "Herb Garden" sign is made from metal, giving it a high quality feel and look. 
9 Herb Windowsill Garden Kit
If you're a lover of many herbs then this is the best option for you, it comes with everything you need to get started. There's a total of 9 small pots and it comes with 9 different types of herb seeds. So, you can grow Dill, Basil, Chives, Thyme, Parsley, Oregano, Cilantro, Sage, & Rosemary. Each pot comes with its own bamboo marker sign to help you identify the herbs whilst growing. 
Classic Wood Design Herb Garden
What makes this windowsill herb garden really stand out, aside from the fact it's a complete started kit, is the markers that come with it. They have a real antique look to them, and it comes with white chalk for you to write the names of your herbs on them. Each box is hand-made and has a unique look to it so you'll never have two the same. As it's made from wood, it's also pretty easy to re-stain or paint it to any style to match your home decor.
White French Cottage Style Planters
This set of 3, french cottage style planters fit perfectly on any windowsill. They add an eye-catching aesthetic to your home and tend to fit in well with any style of decor. Holes at the bottom of each planter allows excess moisture to drain away into the drip tray. When you notice water in the tray, it's best if you empty it out straight away and dry off the bottom of the planters. Otherwise you might find they start to rust on the bottom, it's not visible but it isn't ideal.
Self Watering Individual Herb Planters
If you're likely to forget to water your herbs, this is the ideal windowsill planter set for you. They can store enough water to last for up to a week so it's much easier for you to grow your herbs. It "self waters" the plants through a cotton rope that sits inside it, soaking up water and essentially drip feeding your herbs slowly. It's made from plastic with a gloss finish, so it's really easy to clean them once you've finished growing your herbs. 
Vintage Galvanized Steel Herb Planters
Made from galvanized steel, these planters have a real high quality feel to them. They're designed in a rustic farmhouse style. It has handles on both sides of the drip tray so you can easily transport your herbs to another windowsill. With them being designed the way they are, it really allows the greenery to have a big visual impact and create a natural feeling environment in your home.
Modern Style Steel Herb Box
This is a contemporary style herb planter that fits perfectly on any windowsill. It's made from high grade stainless steel and each seam is welded shut to prevent water leakage. The clean design makes your herbs stand out, the greenery contrasts really well against the white steel. There's quite a bit of weight to it, giving testament to the build quality. Plus it prevents your children from knocking it over should you have it in an area they can get their hands on it.
GardenBasix Self-Watering Herb Garden
The best thing about this indoor herb planter, aside from the fact that it sits perfectly on your windowsill is that it has an exposed water level reader. It gives you an indication on whether or not the plants need to be watered, it helps stop you soaking the roots. You also get six discs of coconut coir (fibre), this helps retain moisture and more nutrients than regular potting soil. It's also more breathable so there's less chance of root rot occurring.