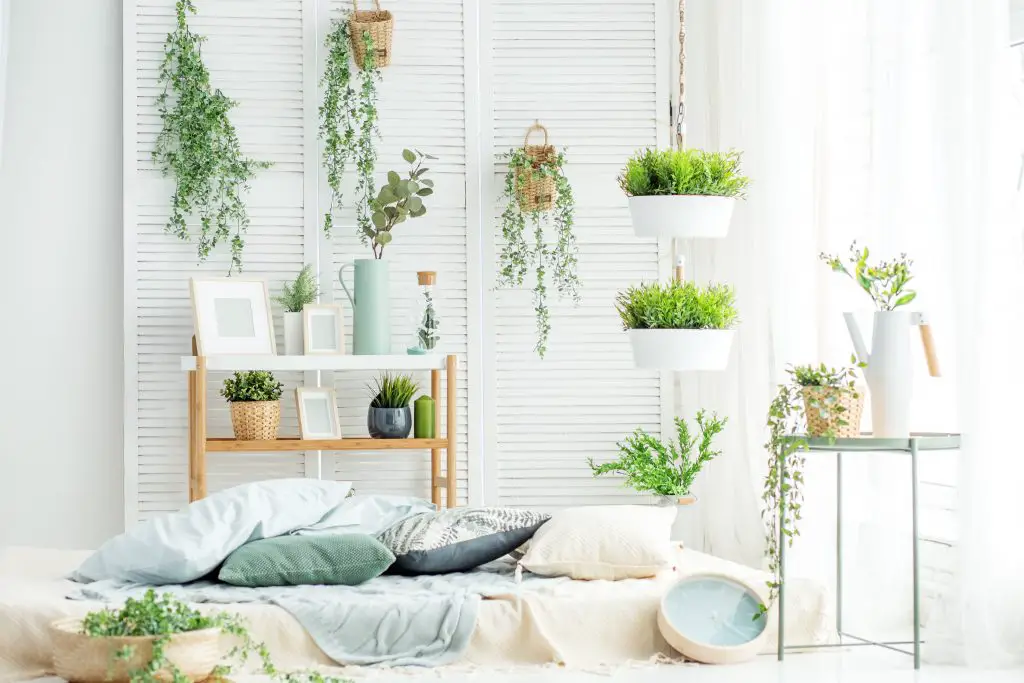 When you have plants in your home, you want somewhere for them to stand out, right?
Well what's better than a plant stand to showcase multiple plants on.
They create a dedicated space for your plants, letting them make a real statement in your home.
Whether you prefer a wooden look or something more geometric and edgy, there's definitely going to be one for you. And, it's probably going to be on this list below.
Yaheetech 6 Tier Plant Stand – Showcase Shelf
Pros
Suitable for 10 Plants
100% Natural Fir Wood
Natural pest/rot resistance
6 Tiers
If you're really wanting to make a statement then this is the one.
There's 6 tiers to fill with around 10 of your favorite plants.
It's made from dark, 100% fir wood that really complements dark green leafed plants.
Plus it has a natural resistance to rot and pests. Also, it can cater for a weight of up to 30kg, so you'll have no issues getting it loaded up with houseplants.
Unho 5 Tier Metal Plant Stand
Pros
Suitable for 6 Plants
Wrought Iron
Elegant Design
5 Tiers
This 5 tier metal stand by Unho is a real centerpiece. It's elegant curls look great in any room. Imagine it with some English Ivy trailing down from the top tier, beautiful. One thing to watch out for with this stand though, the sturdiness. It's advisable that you place the heavier plants at the bottom to avoid it feeling a little unstable.
Homjoy Metal Plant Stand – Suitable For 2 Plants
Pros
Suitable for 2 Plants
Scroll work design
Ideal gift
2 Tiers
If you're after something to fill a corner, this is the one. There's space for two plants, so it doesn't grab too much attention but it adds a nice touch to the corners of a room. There's a beautiful scroll work design all over it, seamlessly blending in to its surroundings. As it's one the smaller side, it makes for an ideal gift for a fellow indoor gardener.
Copree Bamboo Plant Stand – Suitable For 6 Plants
Rating:
Pros
 Holds heavy weights
Multiple shelves
Slim
Modern, smooth look
With these 6 wooden platforms your favourite plants can comfortably hang out. As well as being built strongly this stand is very narrow so will fit snug along your hallway, on a balcony or even in your bathroom! Maybe you have a few frames that need displaying somewhere too? This multi functional  stand can help perfectly display those for guests to be in awe of. 
CooGou Wooden Plant Stand – 8 Tiers
Pros
Heavy duty
Solid wood
Multiple shelves
Rustic/modern look combination
Cons
 Small size
Assembly may seem difficult
Solid pine wood is a brilliant material for those modern looks, although this is on the smaller side of shelves it's definitely eye catching. The CooGou stand is a heavy duty home for your most favourite plants! Plus, with multiple large spaced shelves you won't struggle for room. As well as looking amazing, greenery blends brilliantly with the dark wooden look.
Foldify Hanging Plant Stand – Pine Wood
Pros
Multiple tiers
Lots of room per shelf
Simple assembly
A popular easy to assemble shelf is the Foldify Hanging Stand and with the image to the left, you can see why. Mix your colours and plant variations with this one, you can't go wrong Grab yourself a few beautiful hanging baskets and let them show off with the single bar on top of the shelf.
4 Tier Ladder Plant Stand – Rustic Wood Style
Pros
Supports many plants
Rustic style
Large
Cons
Quite lightweight
Only indoor
Looking for that unique rustic look? This 4 platform high rack will stand charmingly in the corner of your room. You can customise this shelf with however many plants you'd like. Filled the shelves? Align some of your plants along the sides of this to reach it's full beauty potential.
Sunny Glade 4 Tier Stand – Two Installation Options
Pros
Modern style
Unique look
 Easy to clean
Easy assembly
Definitely a piece you need to show off if the Sunny Glade stand, your guests will no doubt spend some time admiring such a lovely piece of furniture. This stand is mainly based for plants in pots which means you can fit all sorts of pieces of decor alongside them.
Ufine Bamboo Ladder Stand – Natural Mountain Bamboo
Pros
Holds multiple plants
Multi-functional
Easy to build
Simple and pretty look
Cons
Not great for outdoor usage
Lightweight material may cause it to fall if not enough weight on shelves.
This is for the more simplistic look around your house. Made from a beautiful bamboo, this stand does it's job wonderfully. Each individual shelf can hold multiple pots, of different sizes. With it's unique ladder shape and light weight, you can easily fold it up for when you don't need to use it. 
Mugiazii Foldable Shelving Unit – Environmentally Friendly Bamboo
Rating:
Pros
Multiple plants
Lovely shine
Sturdy
On the larger side of stands this is fit perfect for your favourite flowers to show off. Or maybe you are looking for a large area to keep the younger plants to grow.  It blends well into modern homes. I can imagine this one sitting nicely in a kitchen, full of different herbs!
Doework 4 Tier Metal Plant Shelf – Easy To Move Around
Pros
Suitable for many plants
Powder coated metal
Easy to assemble
4 Tiers
This 4 tier plant shelf is made from metal, and it's super easy to assemble. You can keep it inside or outside. The sturdy frame is powder coated, so it's rust resistant. It's lighter than you'd expect, but that just means you can move it around easier. As with any stand, it's best to put the heaviest things at the bottom. But this one seems pretty sturdy regardless. Sitting at 55 inches tall, the top shelf is easily reachable for most people.
3 Tier Corner Plant Stand – Made From Metal
Rating:
Pros
Suitable for 6 Plants
Corner fit
Ideal outdoors
3 Tiers
This one sits well in any corner. It's ideal if you've got a space to fill, but you're not sure what with.
Kshioe 3 Plant Stand – Unique Bicycle Design
Pros
Suitable for 3 Plants
Bicycle design
Unique gift
3 Tiers
Now, if you're really wanting to make a statement then this is perfect. How cute is this bicycle carrying 3 plants. It's sturdy and will stand comfortably on its own in any space. It looks great in a conservatory or outdoors. The 3 circular baskets hold plants that are a little on the smaller side. Making it ideal for holding herbs. 
Magshion Bamboo Plant Stand – Ideal For Small Spaces
Pros
Suitable for bathrooms
Natural Bamboo
4 Tiers
This plant stand is made from 100% natural bamboo. Making it environmentally friendly. So not only that, but it also looks fantastic in any modern space. The large shelf spaces give your plants a protective space. It also adds depth to your space, making the area feel light and airy. One of my favourite things about this one, it's waterproof. As it's made from bamboo, it's naturally waterproof. This means it's also perfect for your bathroom. 
Tingberoo 6 Tier Plant Stand – Suitable For 7 Potted Plants
Pros
Suitable for 7 Plants
Perfect for small spaces
7 Tiers
If you live in quite a small space and want to make the most of it, this is perfect. There are 7 levels, so that's 7 different plants! Unless you keep succulents on it, then you could probably get quite a few more. With the stand being a brilliant white, it helps bring the colours out in your plants. One downside though, the height seems to make it a little flimsy. To counter this, make sure you put the heaviest plants at the bottom. I'd recommend only putting some very light plants on the upper levels.