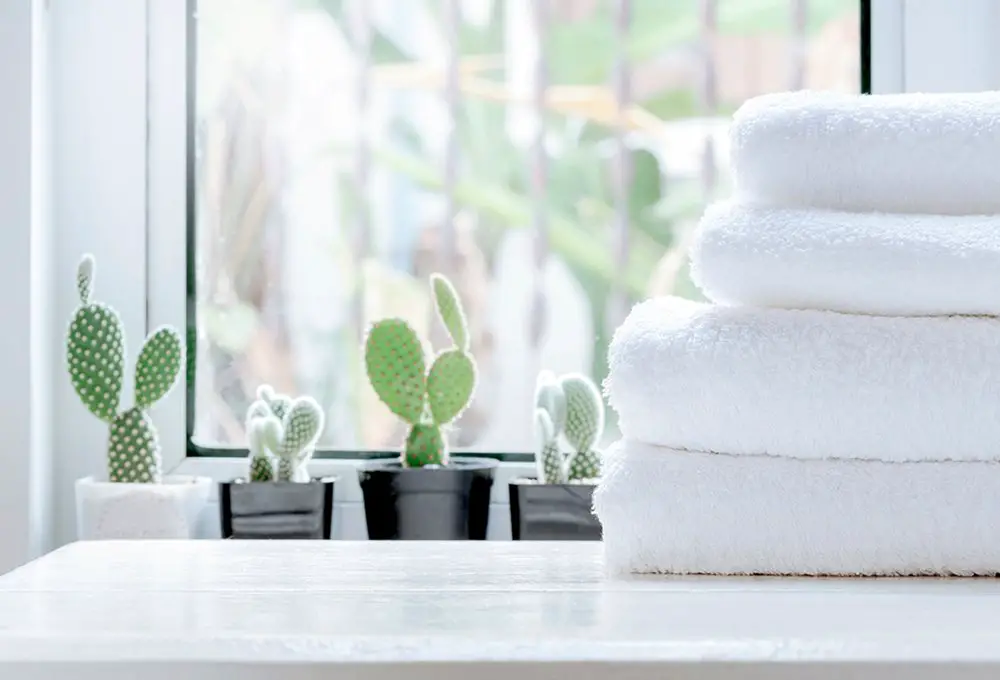 Cacti thrive in warm, moist settings. Therefore, the bathroom is the perfect location for this houseplant. A cactus plant provides that splash of green in a bathroom space and, depending on the variety, may come in other colors, too, making them ideal when paired with any color bathroom. Here are some ways to integrate cactus bathroom decor.
White Ceramic Containers
One of the most common things to do with a cactus plant is to put them in several white ceramic pots. This pairing adds a sophisticated, minimalistic look, and the white pot is a great contrast to the bright green plant.
For the bathroom, you can select a variety of cacti shapes and sizes. You can have rounded cacti in the back, two leafy ones in the front (euphorbia lactea), and a more exotic brand intermingled with the front as well.
Coffee Mugs and Cups
For that splash of color, but these indoor plants are in coffee cups or mugs. Use colorful cups as a DIY planter that tie in the colors in your bathroom and that blend well with your cactus. Since the cactus isn't a fussy plant, place some soil in the mug, plant the cactus, and occasionally water it.
Go Rustic With Hand-Painted Clay Pots
Clay pots add color to the cactus and the décor. Most of them are smaller in size, so you can strategically place them along a windowsill or on shelving to add variety to a bathroom.
Glass Florariums Offers a Classic Appeal
For a classic, elegant bathroom, consider glass florariums. These are self-sustainable containers cut in eye-catching geometric designs. They can be placed on shelves, countertops, and left hanging in a sequential three in a row for a larger bathroom. Whatever the décor, this design is an eye-catching conversation piece.
Plant Several Cacti Into a Large Wooden Pot for a South of the Border Feel
This look is a more affordable option and looks great resting on a countertop with a double sink. By using a single, flat-top wooden pot, you can include soil and plant up to six mini cacti within it. Shallow wooden trays with detailed designs can also make an attractive holder, and it fits into any type of interior design.
Incorporate Earthen Pots
This idea is another design with a rustic, minimalist appeal. Used alone, it creates a natural, Spanish feel to any bathroom. These terra cotta pots are also perfect for cacti as it encourages natural growth.
Since earthen pots retain moisture, the cacti should only be occasionally watered.
Minimalist Tall Cactus
For large bathrooms, place a cactus in the corner in a large, white container to add an extra dimension to the room. The best contrast is a squared white container. However, you can add any color that fits in with your color scheme.
This design goes well in rooms with hints of pink, white, and yellow that highlight the cactus.
Cement Block Vases
This simple look enhances geometric patterns and is very cost-effective to implement. Again, due to the size of the vase, you should incorporate it in a large master bathroom. However, you can have fun with the variety of the design.
You can do ones with geometric patterns or use natural cement colors.
Braided Vases
Go for a boho look with a braided basket to compliment your décor. It can be placed on the floor or hung from the ceiling.
For a Child's Bathroom…
Consider this favorite Marvel character- baby Groot! Cacti, while pricky, is an easy plant for older children to care for as they require minimal effort and are easy to maintain. Add that touch of cute to their space with a baby Groot on the shelfEuphorbia or in a cabinet.
This holder uses PVC material which is non-toxic and safe. Your children will love seeing a cactus or any plant grow out of Groot's head.
Different Effects
A cactus can bring different elements into a room. The goal should be to create harmony in the design by creating a focal point or adding emphasis to a wall.
In placing your cactus, note that a big cactus will dominate the surrounding area, making it the focal point of the wall. There should be a decent amount of space without other furniture, such as any countertops. You can use a stand-alone vanity table for some cacti, but it will depend on how large it is and the style. It won't work for every design.
With small patterns for smaller spaces, you should spread out the cacti evenly. The pots should be equal distances apart, but you can play with the shape, color, and orientation of the cactus itself.
You can turn the cactus from different angles to generate interest and a more dynamic design. Just make sure it follows a pattern.
Place the cactus on a contrasting wall that will draw the color of it out. If your cactus blooms, consider what it will look like both in season and out of season. Will it incorporate well into your design and the surrounding area? Does this succulent work with the tile and shower curtain?
You can also do a hierarchy in the plant heights. They can vary in color but should have some organization. For most people, this is smallest to tallest. The shapes should be in a uniform transition. It should be the same type of plant.
You can create a rhythm or type of movement for bathroom spaces. Pots placed 10-20 cm apart will create a rhythm than something randomly placed. It will create a flow to the space instead of chaos.
Also, don't be afraid of using hanging plants in a wide-open space. They can add a tropical or bohemian feel to your bathroom.
Cactus plants are a beautiful addition to any bathroom and can be incorporated in multiple ways depending on the size of the space. Large, decorative vases can make a bold statement in the bathroom decor of a master suite, whereas you can also add a subtle pop of color by using tiny cups or mugs. The choices are endless on placement and size.